Stained mattresses are not only embarrassing but may also smell and irritate your skin because of the accumulation of dust mites, mildew, and mold. The good news is that you can always clean the stains on your mattresses. This article will lay out some easy ways how to clean mattress stains.
What is the Best Mattress Stain Remover?
The best stain remover for mattresses varies depending on two main factors, including the mattress fabric and the type of stain. For example, a method used to clean a coffee stain may not work on urine stains.
As a result, it is best to find a solution that works best for your old or new mattress. Keep reading to know how you can clean stains on your mattress naturally.
How to Clean Mattress Stains
When it comes to mattress cleaning time, you can always use simple ingredients and natural methods to remove stains and freshen your mattress. Here are tools and materials you will need;
Clean cloth or towels
Spray bottle
Hydrogen peroxide
Baking soda
White vinegar
Liquid dish soap
Water
Bucket
Essential oils
Cleaning Urine Stains
Urine stains are the most common types of stains from your mattress. Your mattress could be stained by human or animal pee. Cleaning urine stain varies depending on whether it is fresh or dried urine.
Fresh Urine
Here are the steps on how you can remove fresh urine stains from your mattress;
In a spray bottle, create a mixture of white vinegar and water in the ratio of 50:50.
Spray a reasonable amount of the mixture to the mattress to treat the stain.
Sprinkle baking soda on top of the stain and allow it to sit for at least eight hours. Remember, the longer, the better.
Blot the excess liquid with a dry and clean towel. Try not to rub the mix onto the stained mattress as it will only push it deeper into the mattress.
Once the area is dry, vacuum it and check if it is clean enough. If there is still some urine visible, repeat the steps until it is clean to the level you want.
Dry Urine
Here are some steps to create the best cleaning solution if you find a urine stain that has been there for a while.
Add 8 oz of hydrogen peroxide, 3 drops of dish soap, and 3 tablespoons of baking soda in a spray bottle.
Spray a good amount of this mix over the stain and wait for it to completely dry.
Once it is dry, vacuum or sweep off the residue left. If the stain is still there, repeat several times until you're satisfied with the results.
Cleaning Blood Stains
Removing blood stains is a bit different from removing all other stains. When removing this stain, you want to use cold water because blood has proteins that may react to water temperatures. Using hot or warm water may only make the stain worse. Here are a few steps you should follow;
Wipe down any blood that is still wet using a clean rag.
Mix equal distilled white vinegar and cold water parts in a spray bottle.
Spray the mix on the blood stain and let it sit for about 30 minutes or until it properly dries up.
Blot using a clean towel and check if it is clean. If not, repeat to remove blood stains.
When working with blood, remember to wear gloves, especially if it isn't yours. For tough stains that are acting up, you can try using a meat tenderizer to clean a mattress.
A meat tenderizer breaks down blood proteins, making it a great DIY cleaner. So, here is how you can use it;
Make a paste that is a combination of one tablespoon of meat tenderizer and two tablespoons of water(cold).
Apply the paste on the stain and use a toothbrush or a small brush to clean the stain.
Let it sit for some time until it dries up, and then vacuum or blot the residue.
Cleaning Sweat Stains
Generally, dried sweat stains will leave yellow stains, while fresh ones will only leave a wet mark. So, to remove sweat stains, here are the steps you should follow.
If the sweat stain is still fresh, ensure you remove the excess moisture using a clean rag or paper towels.
Mix equal parts hydrogen peroxide, water, and dish soap, then add the mix to a spray bottle.
Spray the mixture on the entire surface of the stain and allow it to sit for about 20 minutes.
Remove the excess moisture from the mattress.
Sprinkle baking soda and wait for about 24 hours to remove any residual fluid or odor.
Vacuum to clean up the residual baking soda and check if the material is clean enough. If not, repeat the process to clean sweat stains.
Cleaning Coffee Stains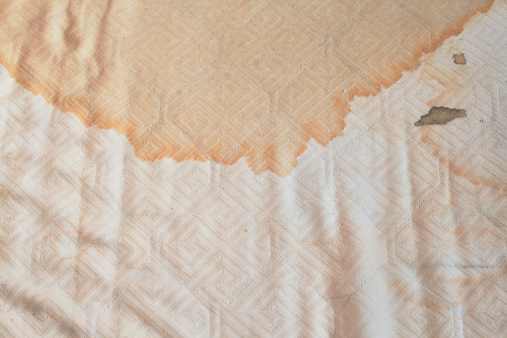 In case of coffee stains, follow these steps on how to clean mattress stains.
Blot the mattress dry using a clean towel to remove the excess liquid.
Dampen a dry cloth using warm water and blot the stain from the edges going inwards to prevent spreading.
Dampen another dry cloth with a liquid dish soap and vinegar solution.
Blot the stain using this stain remover solution starting from the edges.
If your coffee has milk, cream, or sugar in it, you should dab a mixture of hot water and laundry detergent on the stain.
Allow it to sit for about five minutes to clean your mattress properly.
Dab a fresh, damp cloth to rinse off the detergent.
Blot dry using a clean towel
Cleaning Nail Polish Stains
To clean nail polish stains from your mattress, you need only a nail polish remover and laundry detergent.
Blot the stain using a dry cloth or paper towel
Dab the nail polish remover using a cotton ball.
Blot the area dry using a clean paper towel
Dab a mixture of water and laundry detergent on the spot
Let it sit for five minutes to clean your mattress properly
Wipe the detergent off using a damp cloth
Pat dry using a towel
Cleaning Juice Stains
For juice stains, here are the steps you should follow.
Dry the area using a towel
Add hydrogen peroxide to a spray bottle, then spray over an affected area.
Allow it to sit for about 8 minutes
Blot the cleaning solution using a dry towel
Sprinkle baking soda and allow it to rest for six hours.
Vacuum the area to remove any residue
Cleaning Oil Stains
When it comes to oily stains, you need cornstarch, baking soda, and a few drops of liquid dish soap.
Mix baking soda and cornstarch in equal portions and sprinkle on the area.
Allow it to sit for about 20 minutes.
Vacuum to remove the mixture
If there are still stains, mix warm water with liquid soap, then dab on the stain.
Let it rest for about 5 minutes.
Rinse the solution using a clean wet cloth and a dry cloth to blot dry
Tips to Consider When Cleaning Mattress Stains
Do not spot clean mattress stains. The goal is to spray the entire mattress surface with no dry spots to avoid watermarks.
Avoid using bleach to remove mattress stains.
Stay away from soaps or detergents with harsh chemicals or colors
How Do You Prevent Mattress Stains?
One of the simple ways to prevent stains or liquid damage on your mattress is by using a waterproof mattress protector. Fortunately, there are many affordable options available in the market. Some are even super easy to get off and on your bed.
If you're looking to keep your mattress odor-free and ensure it absorbs fewer skin cells and less sweat, then sprinkling baking soda on top of your mattress may help. Sprinkle baking soda and let it sit for some hours, then vacuum it. Doing this regularly will help tackle stains and keep your mattress fresh for a good night's sleep.
Lastly, rotating your mattress once every three months can help prevent bodily fluids and oils from accumulating on the mattress, causing stains. In addition, doing this makes sure you can sleep on different sides of the mattress, minimizing build-up on one side.
Frequently Asked Questions (FAQs) on Cleaning Mattress Stains
1. How often should I clean my mattress?
If you cover your mattress with the best mattress protector, you may never need to thoroughly deep clean it. Instead, you only need to remove the protector then wash it to remove dirt, allergens, and odors.
However, if you don't use mattress protectors, you need to vacuum the mattress every month and deep clean it a minimum of twice a year.
2. How do you deep clean a mattress?
Here are simple steps you should follow when deep cleaning a mattress;
Remove all the blankets and sheets from your mattress and clean the washable mattress pad, if any.
Deodorize using plain baking soda. To do this, sprinkle a bit of it on your mattress and gently rub it to make it bond with the surface and kill the odors. However, don't scrub too hard, and the longer you leave it there, the better.
Vacuum using the upholstery attachment if you have one. Avoid using the one with the rolling brush.
Remove mattress stain using a homemade stain remover we have shown above.
You can sprinkle some baking soda before allowing your mattress to air dry.
Flip on the other side and repeat.